In July 2005, while my hubby and I were still dating, we celebrated a long weekend in Key West with a large group of family and friends for the 4th of July. We got engaged that weekend, at 11 o'clock at night, in the pool of our little hotel. Key West holds a special place for us just because of that - and because it is a hell of a good time. This past 4th, two years after our momentous engagement, we returned with my sister and brother-in-law (who actually got engaged the same weekend we did) for some summer fun and relaxation. Things were a little different this time around - we were all married and my hubby and I are 6 months pregnant with our first child. My, my how things do change!

And here we all are - at the Southernmost Point of the US. No matter how touristy it is - you really just cannot avoid taking a pic just like this one whenever you go to Key West. It is a must do. LOL. And no...we did not get to see the lights of Cuba. I am beginning to think that is a myth - I have been to Key West many times and have never seen the glow of the lights from Cuba. Cruise ships, yes, though....


My sister and brother-in-law talked us into visiting Fort Zachary Taylor Beach. For those of you who do not know, Key West is not known for its beaches. It, like the rest of the Keys, is basically an island of rock surrounded by water. Key West is much more known for its B&Bs and bars and pools, and... did I mention Bars?. In the many years I have been going to Key West, this was the first time I visited one of its beaches - if you can believe it. It was not worth it. LOL. This is, of course, just my opinion but I would recommend visiting Smathers Beach and its imported Bahamian sand rather than Fort ZT Beach and its VERY rocky terrain. If you do decide to visit Fort ZT Beach - bring water shoes. Trust me.
And just to show you that I can have fun in a cardboard box, rocky sand or no, here is a decent picture of preggo me in a bathing suit with my smiling hubby. Until I saw this picture and was able to compare my skin with hubby's - I was actually starting to think I had begun to tan.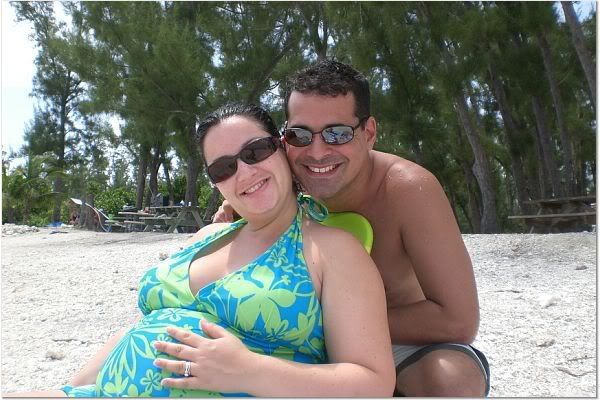 The rest of the days of our trip followed the same lines. We found some sort of pool during the day and floated around in tepid water. It was so hot that in order to wet our bodies with cool water we actually had to find a shower because all of the pools and beaches we visited did not have water that was cooler than 78 degrees. Still, the water was better than nothing! It was HOT!

When we were not swimming, we were eating. We enjoyed food at the new Guy Harvey Bar and Grill, Margaritaville, Sloppy Joes, The Conch Republic and Key West Seafood House, and Mangoes. I will tell you that the BEST dish I had all weekend - hell, make that the best meal I had ever eaten, was dinner at The Conch Republic and Key West Seafood House. It was a special they had that night - Snapper Wellington. My GOD. A feast for the taste buds, people. Snapper stuffed with crab baked in a pastry puff, set atop a nice dollop of Hollandaise sauce. Trust me, it tasted even better than it sounds. I even took a picture of it. I will have to make sure to add it soon...
Thursday night we visited Bourbon 801 - a drag show. My very first drag show! Now that is a hell of a good time to be had. I highly recommend it if you have not seen one. I will say this, as if it was not bad enough being overshadowed by the many non-pregnant women strutting around Key West - to be overshadowed by a bunch of men dressed as women was interesting, amusing, and actually quite humbling. They were a great group. A lot of fun to talk to, watch, and listen. I did learn that they have 2 shows a night (at 9pm and 11pm) and that each and every show is different. That is 14 individual shows a week. A lot of work for them - so tip well if you do stop in! And say hi to Cookie and Dejia for me!
BTW, this is me - sad and lonely without a Margarita to call my friend... No one would listen to me when I told them that the baby wanted a Margarita. Just kidding! About the baby wanting one. Not about being sad that I could not have one...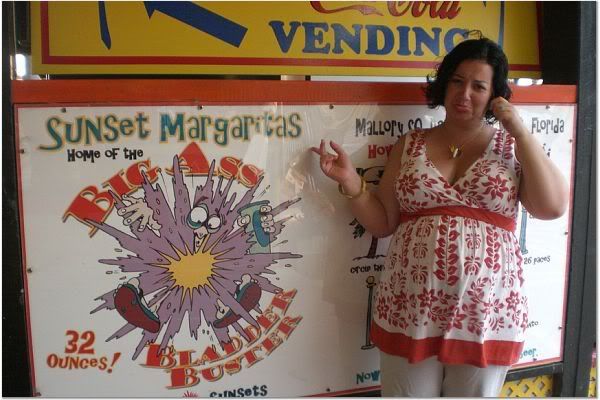 On the last night of our trip we took in a Sunset Sail on a Catameran. I was excited about this - something fun to do that did not involve bar hopping! Woohoo! Uh yeah - it was a glorified booze cruise. LOL. One that my hubby, BIL, and sister made the most of. I think the bartenders actually lost money on our little group with their little drink price deal. It was a good time, though. We got a lot of great pictures of ourselves and the sunset. It was a little overcast that evening but that did not take away from the beauty of a Key West sunset.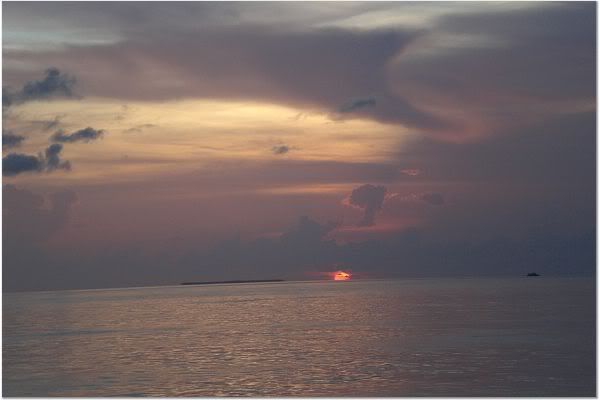 Overall, our last hurrah before the baby arrives was a very good time. Yeah, it was hard not to be able to drink Margaritas or join my BIL for some Jaager Bombs - but surprisingly I was able to really let go and have a nice time inspite of some of my new limitations. Heat and all. I am so glad that we went. It was well worth it.