My Baby Shower was this weekend...

Having gone the whole bridal shower route and wedding route and realizing really how generous people can be I thought I was prepared for the baby shower. I knew people would open their hearts (and yes, honestly, their wallets) to shower this unborn baby girl and us, her parents, with just about everything we will need to welcome her with. And they did. It is different than a bridal shower, though, when it is for your child. It made everything so real and so much more special. And it felt surreal. Looking at the pictures it is hard to wrap my head around the fact that the bump under my shirt is a baby and that in just over 6 weeks she will be due to arrive - and basically stay for good.

I looked around to see friends of mine who a year or two ago did not have children, sitting in that room with their little babies in their lap or attached to their boob, and I think that very soon it will be me sitting at someone else's shower with my very own baby. Wow! In fact, I said just that to my husband last night. Its an awe inspiring thought. This child who was but a twinkle of an idea in our minds 14 months ago when we decided to actively try to conceive a baby and then 8 months ago when we were successful at conceiving her - to think that in just 6 weeks time she will be here is just too much.

Anyway, enough of that. I can go on all day, really. So, here are a few pictures from the baby shower. My mom and sister did a fantabulous job of setting everything up and arranging everything. I know it was a lot of work for them but you can definitely tell how much love and care they put into each and every detail. So, thank you to them and thank you to all of my friends and family who "showered" us with so much. We love you!

OXOXOX.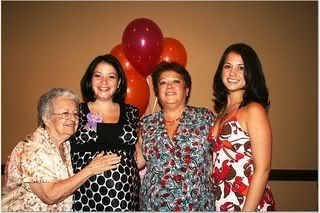 Four (one in the belly) generations...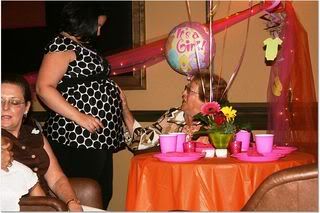 Even Sophia got greeted by our guests!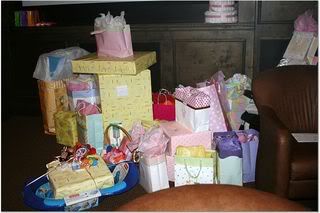 Wow! Everyone was oh-so-generous!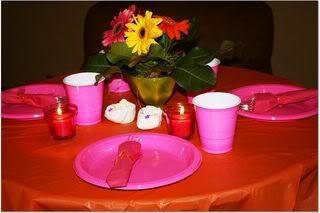 A detail shot of one of the tables. I loved the color scheme! So original and bright.