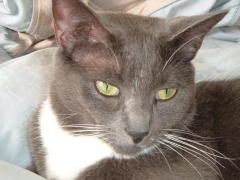 ...and they say cats and water don't mix well.

Let me give you a little background on Gypsy. I have had her since she was 8 weeks old. She was a gift from my parents when I moved out. Its been about 8 years now that we have been together - although I did add another cat to our little family a couple of years before I got married. She is spoiled rotten. When she was a kitten she would curl up next to my head on my pillow - in fact she still does that sometimes. She follows me around like a puppy and I even swear that she says "Mama" on occasion.

She has not reacted well to a new baby in the house. In fact, within 3 hours of Sophia being home and me not greeting her properly (my fault) Gypsy peed smack in the center of my bed. Thank GOODNESS we had left lining on the off chance my water broke in bed towards the end of my pregnancy or she would have been one dead kitty. She now tolerates the baby with a mild curiosity but is much more interested in making sure she gets her time with me, too - which is not that often as Sophia demands a lot of my time.

Now, on to the story...

I decided to indulge in a bubble bath yesterday while the baby was napping. I was dying for some alone time with my new book (see recommendation below) and the bath is my favorite place in which to indulge.

Gypsy usually likes to hang out on the very top of the of the shower doors while I bathe or shower. Its so funny but we are used to it. Yesterday she apparently got bored of being up there or decided that she was too far away and jumped onto the counter which covers one of the shower doors and proceeded to use her paw to OPEN the shower door and look down at me in the tub. I thought, "okay, this is new" and let her do her thing as I continued reading.

A few minutes later she jumps down onto the corner edge of the tub and lays down and practically has her head on my shoulder as if she was reading my book with me. I could barely concentrate on my book because I was so flabbergasted! She had never done that before. I can only think now that she wanted some alone time with me without the baby around as a distraction. But it was too funny and too cute. She left about 15 minutes later when she heard my husband coming - apparently its not alone time if he is there either.

Cats are interesting and strange creatures. Remember this the next time someone tries to tell you that they have no personalities - until you have lived with a cat, you cannot possibly appreciate what they bring to the mix.