We have been coaching Sophia on, "Dadadadadada" and "Mamamamama" since birth so that she knows who we are and so that she learns how to say it one day. In addition, I always ask her, "where is Dada?" Or I point to myself and I say, "Ma-MA."

This morning I was coaching and playing with her and singsonging different versions of "Da-Da" and I SWEAR the kid whispered, 'a-da' in response. A little one and just once and then mouthed it!!!! Thats all she did - but I totally felt like she was picking it up!

To be continued... Hopefully sometime within the next couple of months I will be able to report a full fledged Dada or Mama!

In the meantime, here is my happy, little Pookie at 5 months and 2 weeks old.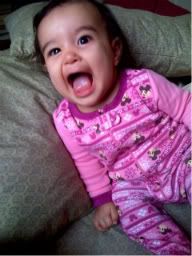 (taken with Tia's I-Phone - 3/8/08)