This is so emotional for me! She needs to slow down. This last 6 months went by so quickly that it makes my breath catch.

6 DAYS OLD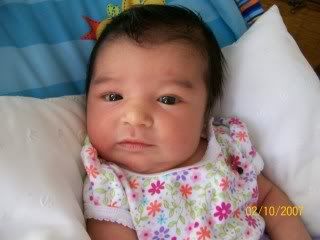 6 MONTHS OLD



A few things about Sophia now that she is 6 months:

She loves food. You can tell those she is not too sure about (peas, sweet potatoes with corn) but she eats them anyway!
She loves her Jumperoo. We see her "asking" to be put in it with body language and sounds she makes.
She has her first tooth. The bottom left.
She has plans. For the cats. And for the removable shower head. We can tell.
She is almost sitting on her own. She can keep her balance for a long period of time and catches herself before she falls - most of the time.
She is very vocal. She sings and yells. We call her baby Tarzan.
She loves to sneeze. It cracks her up.
...and she knows us. She loves her parents. We can tell. She loves her family and is recognizing her "people". Its awesome.
Its amazing to see that she has gone from this little person who could barely keep her eyes open to a little person who is grabbing things and holding on, learning to hold her own bottle, fliring and smiling.
I love being Sophia's mommy. It is an incredible gift.